Tweet
The news of a Malayalam professor whose hands have been cut off by a group of Muslim extremists is the talk of Kerala these days. Professor Joseph's right palm was cut off by a gang of six people while he was returning home from Church on a Sunday. Two Popular Front activists have been arrested in connection with this incident. Popular Front, of which the accused are members of,  is alleged to have links to Islamic terrorist organizations like Lashkar-e-Taiba and SIMI (Student Islamic Movement of India) as is read from their Wiki page.
The incident has to be condemned and the culprits should be brought to justice, as we cannot excuse any form of terrorism or extremism, regardless of which community it comes from – the majority or minority. But there are a couple of issues attached to this incident.
The problem arose when Mr. Joseph, a professor of Malayalam in Newman College Thodupuzha, included a narrative in a question paper that he prepared for the students of the college. The narrative was from an article written by film maker/politician P T Kunjumuhammed. Kunjumuhammed had written about the script that he wrote for his award winning movie "Garshom". He wrote that the scene in which the protagonist of his film talks to God was inspired by a lunatic in his hometown. So the lunatic would call God and God would respond "what is it, you son of a dog"? (I am unsure that "Son of a dog" interprets it's Malayalam usage "Naayinte mone" well though). The question that came with the narrative was to supply the punctuation.
P T Kunjumuhammed's article: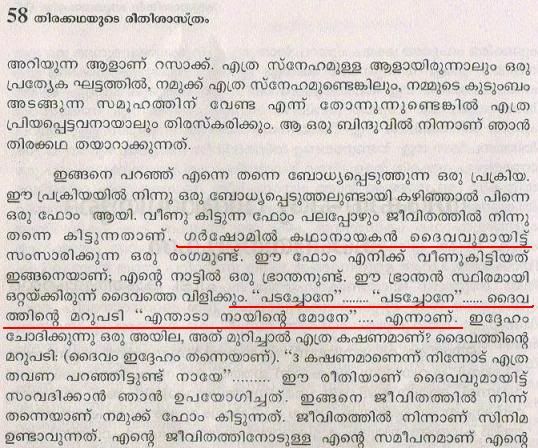 The controversial part of the question paper: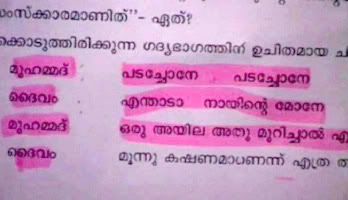 Prof. Joseph took the passage and instead of leaving the lunatic nameless (as in the original passage) he added a name (which he did not have to do) and the name he chose was Muhammed (which also he did not have to do as there are many other common Muslim names if he had to give one). This was really unnecessary for Prof Joseph to include such a twisted version in the question paper. When this became a controversy, the college management and Church apologized for having to hurt the Muslim sentiments and they suspended Joseph when the question paper became a controversy which was a rightful thing to do.
But this gruesome act of extremists leads us to another thing – how a group of radical Islamists have begun to unleash their terror openly in the Kerala society. They are in large numbers and comes in different names. They have infiltrated into the liberal, democratic and political spheres in disguise. And if they are not stopped now, Kerala will soon become an Islamist playground. The under current is already on.