Tweet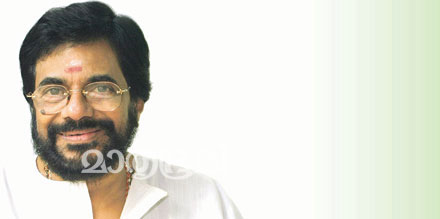 It comes as a big shock to hear that the prominent music director Sri. M G Radhakrishnan sir has now gone to join the heavens. He left this world at around 1:45 PM today. He was 69 years old and was in the hospital. Needless to say, a big loss for those who love music.
I was fortunate to have been blessed by him, to spend some time with him and to sing for him once. It was all started when I posted my cover version of his song, Nilaavinte Neelabhasma, in my music blog. And when I saw the below comment in the name of MGR to that blog post, I thought it was some friends playing prank. The comment was:
I heard your song "Nilavinte Neelabhasma". My daughter sent me this link. You have a nice voice and a good rendering. Bless you, my son.
He had also left his full address and phone number. So I thought I would call and see which friend was behind this. But to my surprise, MGR's driver took the phone and later I could talk to Pappechi, his wife, and then to MGR himself. Later on, after I joined Envestnet, I went to meet MGR at his house in Trivandrum. He made me sing Nilaavinte Neelabhasma again, pointed out a couple of mistakes and said my voice would need more polishing to become a professional singer. He mentioned it doesn't matter if you sing Varnams or Krithis or if you have learned music for x years. He said if you can sing the 7 swarams properly, that is more important and the daily practise of basic swarams is essential. He blessed me, said there were many great people who started with his blessings and later became famous in the field of music. He jokingly said that I would forget the whole meeting incident when I become famous.
I met him again after a couple of months in East Coast studios in Sasthamangalam. He had invited me to sing a track song for one of his music albums. I sang one track for G Venugopal, who was also present there to sing for the movie Pakal, which was composed by M G Radhakrishnan. There were some great people in the room then – poet Sugathakumari's daughter Lakshmi, singer G Venugopal and lyricist late Gireesh Puthenchery. MGR introduced me to Gireesh Puthenchery and said, "my wife is his biggest fan", which I consider as the greatest compliment I have ever received. I stood there spellbound, being in the presence of some great souls. MGR made me sing the song again in the presence of Gireesh Puthenchery. Puthenchery also shared some of the old memories, from the days he met M G Radhakrishnan first.
Believe it or not, I was thinking just yesterday that I should visit him and Pappechi because it has been a long time since I met them last time. And then comes this news…
My heart goes out to his family. Especially his wife Padmaja Radhakrishnan, whom we fondly call Pappechi and his daughter Karthika (who introduced my song to him). May God give them the strength to survive these difficult moments.
My cover versions of MGR songs:
Nilaavinte Neelabhasma (unplugged) – On which MGR commented
Nilaavinte Neelabhasma (with track)
Thira Nurayum
Poomukha vaathilkkal
Ambalappuzhe
My favorite songs from M G Radhakrishnan:
Palavattam Pookkaalam / Varuvaanillaarum (Manichithrathaazhu)
Oru murai vanthu paarthaayaa (Manichithrathaazhu)
Nilaavinte Neelabhasma (Agnidevan)
Oru Poovithalin (Agnidevan)
Ambalappuzhe (Advaitham)
Surya Kireedam (Devaasuram)
Thira Nurayum (Ananthabhadram)
Njaattuvela kiliye (Midhunam)
Ethra pookkaalamini (Raakkuyilin Raaga sadassil)
Poomukha vaathilkkal (Raakkuyilin Raaga sadassil)
Oru dalam maathram (Jaalakam)
Naadhaa nee varum
Mouname Nirayum Mouname
(Image courtesy: Mathrubhumi.com)