Tweet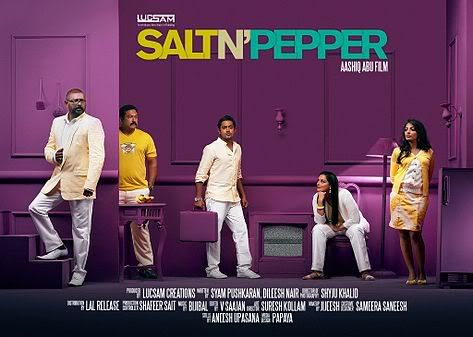 From the movie reviews that I read in several websites and FB status messages, it seemed to me that "Salt N Pepper" was a refreshing, path-breaking, unconventional movie that is part of a 'movement in Malayalam cinema' (courtesy: Prithviraj) lead by some young people in the industry.
But the hiccup starts right from the beginning, when Kaalidasan abducts Mooppan from the wild. Kaalidasan wants the viewers to believe that he has plans to learn the unknown tribal recipes from the Mooppan, but throughout the movie, Mooppan is just an antique decoration in Kaalidasan's house. He says nothing, does nothing except staring and smiling at times. We don't know why that character is even there if not to bring in the 'human right activists joke' into picture. Oh yeah, we need to talk about that joke.
Off late, Human rights activism has been made a subject of ridiculeness in some Malayalam movies. It was started off with Major Ravi and his war movies and the nationalist fervor of people has cheered them all the way. Aashiq Abu does the same kind of ridiculing, with that loud ex-police character so it is easy for the viewers to hate the human rights activists. As a result, Kaalidasan, who pulled a tribal man off his environment and does nothing for him and rather Kaalidasan's intention is to make use of Moopan to please his taste buds, is portrayed as the good man and the hero. The human rights activists who try to save the old man are portrayed evil.
Then comes Maya, the rebellious dubbing artiste who knows how to handle the guys in the studio or the big shot film industry people, who in a boozing session with her flat mates says that "being a woman, I fell for his trap" referring to her failed romantic relationship. The director who was bold enough to let the heroine hold a bottle of beer still couldn't do without the 'traditional wisdom' that women are, by nature, fragile. Typecast never ends as the male assistant in the beauty salon acts like a woman. Again the traditional wisdom that men working in the beauty/glamor industry must be lady-boyish.
The film's highlight is it's light-hearted comedy but some bits of it is not so light-hearted. For example, look at the scene where Maya asks for 'garlic chutney' (to go with the Thattil Kutty Dosa) and Kaalidasan reacts by looking at his private parts. The hint is clear and Aashiq Abu certainly knows how to please his male audience. We should also note that this is the kind of 'comedy' that is seen in Malayalam cinema/TV/live shows these days.
So much so to the 'path-breaking, un-conventional' movie. But the film is not without it's positives. The way that Kaalidasan bonds with Maya through their common love for food has been portrayed nicely. Their conversations on food, their own different reasons to love food – Kaalidasan a born foodie and Maya cooks to connect with her mother's memories – have also been shown nicely. The most yummy and well taken scene in the movie is when Kaalidasan tells Maya the recipe of Joan's Rainbow Cake and both make and relish it. The old Premier Padmini is also a part of the movie that does it's role well while abruptly playing the music through it's dysfunctional radio.
There is nothing much to be said about Lal and Shweta Menon (who have portrayed Kaalidasan and Maaya respectively) as we already know how talented these two actors are. Surprise of course comes from Baburaj, who usually does villainous characters, doing a comic role here. The scene that Lal asks Baburaj to go with him was hilarious.
When the movie ends, you would be wondering why the much-awaited meeting of Maya and Kaalidasan was scheduled at a museum and not in a food joint. But that is quite obvious as the food factor is forgotten right after the first half of the movie and from then onwards it's an excessive bit of salt and pepper you taste here and there.