Tweet
Leonardo Da Vinci's "The Last Supper" is a great work of art than anything else. So if there is anybody to be concerned about the derivatives of the original art work, it should be Da Vinci himself or the duke who commissioned him to paint or the current rightful owners of the painting. The Last Supper has also been an inspiration to many other forms of art. Books, movies, posters and cartoons.
A few days back, some Communist party workers of a labor union had erected a poster in Trivandrum depicting The Last Supper in a cartoon manner. They haven't done anything more than what the mainstream media like Malayala Manorama or Times of India have done in the past for political cartoons. But Malayala Manorama news daily has touted it to be an anti-Christian campaign and accused Communists of hurting religious sentiments. And the Catholic church followed suit alleging that the Communists have hurt their feelings. What I see from all this is a panic drive from both Malayala Manorama and the Christian church to thwart attempts of the Communist party to lure Christians to their fold by celebrating Jesus Christ in their party gatherings.
Let me make it clear, I have no sympathy towards the religious/cast/poll politics of any party, including the Communists. And the Communists' love for Christ all in a sudden is clearly a political game aimed at the upcoming elections in Piravam. I believe that people are wise enough to see through this. It doesn't really need Malayala Manorama or the Church to make them realize this. But in an instance of the worst kind of journalism, Malayala Manorama put the news of this poster in the front page, when the fact remains that the controversial poster was taken down by order of the party just two hours after the poster erection. There was no reason for Malayala Manorama to dig it up again days after and put it up as a front page news item. Particularly when they themselves had depicted The Last Supper in political cartoons. The former Manorama cartoonist Yesudasan has also said on TV that he had drawn many political cartoons for Malayala Manorama depicting many Bible incidents. This open political fielding and hunt for making a news supper have only brought out the ugly political journalism of the so called 'pathRa mutthaSSi' again. See it for yourself.
The poster from Communist party labor union
Malayala Manorama's 'last supper' from 1990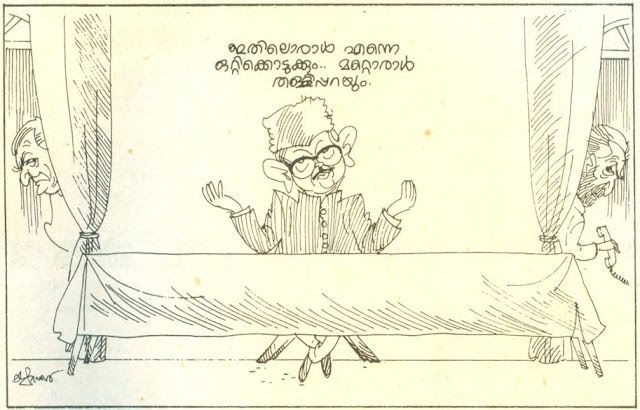 'Lost Supper' from Times of India from 2010

Kerala Kaumudi's 'last supper' from 2008