Tweet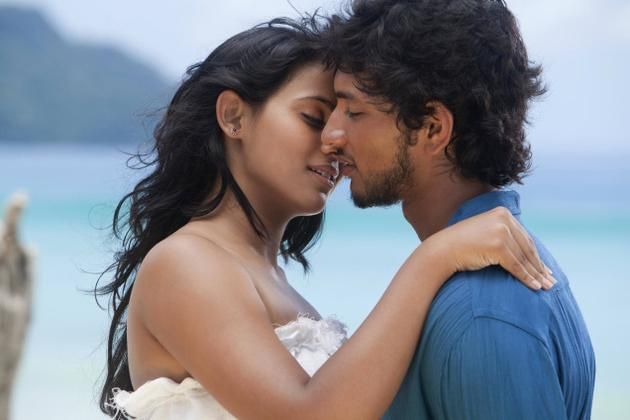 Ever since the first single of A R Rahman's latest offering "Kadal" was out through MTV Unplugged, the expectation on the album was so high and Rahman kept on to the fan frenzy. And as the popular saying goes, Rahman seems to do his best when he work with ace director Mani Ratnam. "Kadal" is a fantastic mix of a variety of music genres and some top-notch singers. The album has seven tracks.
If "Aaromale" was the surprise element of "Vinnai thaandi varuvaaya", then the song "Adiye" is the gem of this album. Sid Sriram's powerful vocals would take you deep into the song instantly. Though set on the Blues sound, you can also hear some folkish elements clearly in it.
"Chithirai Nilaa" starts off with a new born's voice effects which would take you back to some of the old works of A R Rahman, particularly one of the songs in "Bombay". The song is a soft, soothing number registered safely with the vocals of Vijay Yesudas.
A R Rahman has sung "Elay Keechan" which has a country flavor to the song. The foot-thumping orchestration and vocal harmony in the background coupled with Rahman's voice makes the song an instant favorite. Perfect fit for a happy ride outside.
Abhay Jodhpurkar and Harini have sung "Moongil Thottam" which is yet another pleasing, soothing track in the album. The guitars, strings and the beautiful voices of the singers would make you sway your heads to the tune.
"Anbin Vaasale" is a power-packed performance of singer Haricharan and the Chennai Chorale. The sounds of church bells tolling makes this a perfect devotional song set in the Gospel music feel.
"Magudi Magudi" is a racy track, set in the lines of a club song. There is nothing much about this track except that it sets a party mood perhaps was meant to enhance the visuals which we would know only when we watch the movie.
The icing of the cake is certainly "Nenjukkulle" sung by Shakthisree Gopalan. The song feels just like a cool breeze on a bright Sunday morning. The strings, percussion coupled with the beautiful vocals of Shakthisree makes the song certainly the best of the album.
To sum it up, "Kadal" proves Rahman's ability to take any genre and easily fuse it with language that he deals with (last time we saw it when he did "Aaromale").
(Image courtesy: The Hindu)
Categories: Entertainment, Music, Uncategorized