Tweet
[An edited version of this interview was published in Soundbox music industry magazine, in it's April 2011 issue, in the Watchtower column on Trivandrum]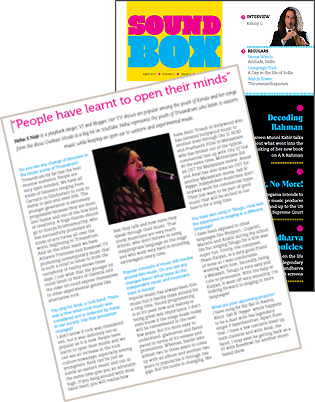 Neha S Nair is a playback singer, VJ and blogger. Her TV shows are popular among the youth of Kerala and her songs form the show Outkast Vocals is a big hit on YouTube. Neha represents the youth of Trivandrum who listen to eastern music while keeping an open ear to western and experimental music.
Tell us a bit about yourself and your musical journey.
My dad wanted to fulfill his wish of learning music through me and since I showed a spark at a tender age, I was enrolled for dance and music classes. I loved both the art forms equally but as I got into high school the pressure of doing well in academics became a time constraint factor and I had to opt out of dance after 8 years of formal training. This was also the time where I ventured into learning Hindustani vocals from Ustad Khalid Anwar Jaan, a Pakistani. I was also learning Carnatic from Ramesh K from the age of 6. Childhood memories are of retro hindi numbers by Lata ji, Asha ji, Mohd. Rafi and compositions of S.D. , R.D. Burman and my favourite, Madan Mohan. But A.R.Rahman is the first musician to ever inspire me to think from a more creative perspective. I would go for various singing and dancing competitions like every other child but was the only one to take it seriously after 10th grade for which I have been scolded by my teachers several times at school. Back then I used to feel frustrated and angry because I was not allowed to go for round square conferences or join basketball team and go for birthday parties only because my father never wanted me to miss a single music lesson. Even if I was sick, I was asked to sit through. But now I realize the value of all those lessons. Totally worth it! As of now I am learning from Perumbavur sir (Carnatic) and Binu sir (western) and Keskarji (Hindustani).
How did film music, Avial and VJ-ing come through? How was the experience?
As I had done my schooling in Muscat, coming to India for music was because of my dreams of becoming a playback singer. I was so influenced by 80's and early 90's qualitative productions that all I ever wanted to do was sing for films. But when I joined for BA music and started to learn and take music a lot more seriously I realized that music is a lot more than just recordings. I was never a Rock music fan but became one when I was exposed towards it and were given opportunities to do something creative. All the credits go to Sumesh Lal sir, the creative head of a Malayalam TV channel called 'Rosebowl' . He discovered the artist in me and gave me an empty space to paint in with vibrant colors of music. He gave me a chance when I was new, inexperienced, totally believing in my intuitions and ideas. I got to work with Rex and Binny of Avial for a production by Rosebowl through which they invited me to perform with the band at the India Fashion Week, Delhi and ever since have been regular with the band. I have done very few films but recording in the silent space of the sound booth is immensely toxic!
Also, I came at a time when reality shows were on a boom. So to venture into playback, Rock and pure classical was a huge learning experience for me. Mass audience would still prefer commercial music anyday as it is more easier to comprehend than understanding the complexities of quality music by bands, etc. Coming to films, I have to thank Rahul Raj sir was trusting in me blindly by making me sing for Shyam sir's Ritu. It was a fab experience. He is extremely positive and had been my mentor at that time. Also, working for Phani Kalyan for Telugu film 'Pappu' was another fun filled experience. Kalyan has always been a friend so it's very informal when I work with him.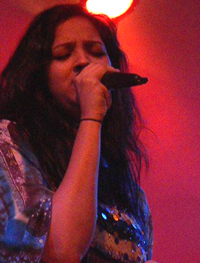 Trivandrum has a big audience for traditional eastern music but the young generation appreciates the western music and many new progressive bands are coming up from the city. Do you see any change of direction in the music scene of Trivandrum? If yes, how is it affecting the city? How do you see the future of the music scene here?
Trivandrum by far has the best musical audience. People are very open minded. We have all kinds of listeners ranging from Carnatic to Hindustani to Rock to Metal to Jazz and even Folk. The younger generation is extremely progressive because they are more into fusion and out-of-the-box kind of creativity. A huge thanks should go to Soorya Krishnamurthy, who has successfully promoted all kinds of arts forms all over the world, beginning in Trivandrum. And on the other hand we have Alliance Francaise and Rosebowl TV promoting contemporary music that is such a relief to listen to from the roaring of reality shows now a days. I just wish that the younger lot could listen to more of classical and the older lot could expose themselves to other experimental genres like alternative rock.
You are also a VJ and hosting some music shows. How has your singing career helped doing your TV shows?
I started off as a VJ and it did not help my singing career at all because I ended up getting more VJ-ing offers and also was called to act in films and advertisements. Eventually with Outcast Vocals and Piano sessions with Stephen Devassy, that were featured on Rosebowl, I got noticed as a singer more than a VJ. But I love doing both though I feel more confident as a musician. The 'In conversation sessions' I did was a very good experience as I got to interact with musicians of all kinds from Sivamani to Ustad Amjad Ali Khan to 'Sam Smala' to young budding talents. I learnt a lot from just listening to them! And another accomplishment in my VJ-ing career was my first ever show which happened to be first ever Telethon – 'Thank You A.R.Rahman' where Rosebowl played 100 best songs by the legend and I was hosting it. Thanks to Kadamba Rajesh, my producer for giving me that opportunity.
You blog about many issues in your personal blog, which is a rare thing among people in the music industry. How important it is for a musician (or an artist) to respond to socio-political issues? Do you think expressing yourself in a public space like blog would effect your career in music?
If I wasn't a singer I would have been a journalist because I feel that is the best medium to project our views. So I decided to blog about whatever I felt about what's happening around the world. I think it's every human being's duty to remain informed about what's happening and to contribute to it in whatever small possible way. I wish I could do a lot more that is action oriented than just removing my frustration through the blog, inshallah! I hope to make an impact through my views someday. My western sir has always said that we can become a good artist only if we are a good, well informed human. There are people who have expressed their dislike towards my career just because I am open about my views but it doesn't matter because it's better to be honest than being a hypocrite. Nothing can effect your career if you are ethical towards the society and work. One should not live in the fear of losing work but in the adverse effects of being ignorant.
You sing for Avial, a rock band. There was a time when Rock music was considered evil or indecent among many in our society. Do you think it has changed?
I don't know if Rock was considered evil, but was definitely not so popular as it is now. People have learnt to open their minds and we can see an increase in the Rock culture nowadays especially among youngsters. But there are many who live under the wrong impression of rock being all about head banging and walking around like a crazy person who parties and swears all the time. It's an absolute cliche!! Rock can be just as subtle as eastern music and can at the same time give you an adrenalin pump. If you hang around with Avial band itself you will realize how less they talk and how more they speak through their music. The cliche about Rock musicians being high on drugs and having a rugged lifestyle is totally untrue. True (rock) musicians are very much ethical, who don't believe in using inappropriate language on the stage and who work very hard in sounding extravagant every time.
Popular concepts of music still revolves around film music. Do you see any changes there? What hope do the independent music and musicians have in Kerala?
Popular music has always been filmi music but it hardly stays around for a long time. Sound programming is at it's peak now and melody has been given less importance now. I don't even know if the songs made today will be remembered in the next few years. But it's more easy to understand, glamorous and more fast paced in terms of it's release and promotions. Where as, bands take almost 2-3 years to come up with an album and another 2 years to popularize through live gigs. But the scene is changing. We have Amit Trivedi in Bollywood who has elevated bollywood music to another level through Dev D, NOKJ and Prashanth Pillai in Malayalam who has broken of the typical commercial line up with City Of God. At the same time, Motherjane did an OST for Malayalam movie "Anwar" and Avial has also done an OST for another Malayalam movie "Salt N' Pepper". So film music industry has also begun to ape towards greater heights in terms of qualitative music. Independent musicians don't anyways work for commercial hype. They just want to be part of good music that will be etched in our hearts for a long long time. So whether they being commercially acclaimed or not doesn't really matter to them.
You have also sung in Telugu. How was the experience in singing in a different language?
I have been exposed to other languages like Bhojpuri , Gujarati, Marathi and Arabic during my school life but singing Telugu for a film was super fun. Firstly, the composer, Phani Kalyan, is a very good friend of mine so I was comfortable working with him. Secondly, being a Malayalee, Telugu is very easy and cute to pronounce. With the help of Kalyan, it went on very smooth. I'm looking forward to singing in more languages!
What are your upcoming projects?
I have sung for Biji Bal in Aashiq Abu's 'Salt N' Pepper' which happens to be a duet with the legendary singer P. Jayachandran. Apart from that I have a few concerts lined up, both classical and with Avial, the band. I may even be getting back as a VJ with Rosebowl for another music based show.