Tweet
A visit back to your school invokes nostalgia so much. After finishing high school in 1994, I went back there only once. I would pass by the school quite often, as it is just 2 KMs away from home, but never felt like walking in there. But last week, I thought I would just show my 3-yrs old son around the school as he would always point out and say "here comes your school!" whenever we passed by.
Sree Narayana Boys High School, Kanimangalam, was and is a modest school. There is a story behind why I joined this school that is about 2 KMs away from home while having an English medium right in the back of our house. I was a school topper in the lower primary school which was also nearby. That school was run by nuns and they made a deal with this other school that I would get admission there from 5th standard onward, because my family couldn't afford the school fees and they would have to admit me for free. The founder of that school was an old man clad in monk-like saffron clothes whose name was Acharya J C Chirammel, also known as "Chaakkoru Maash", and he readily agreed to take me in. But then he passed away in a road accident. His son was a priest and he denied the help offered by his father (very priestly indeed). So we had no choice but to move to a school where we did not have to pay for education. That is how S.N. Boys School came in to picture. I have mostly good memories of the school. The teachers were kind, the atmosphere helped grow the extra curricular activities and got some good friends who still remain good friends. Here are some pics.
This place that looks like an abandoned historical site was once abuzz with the chatter of students and parents. The stage you see in this picture has witnessed many school anniversaries, youth festivals and send-off meetings.
Next to the old and abandoned stage is a portion dedicated to teach children the basics of farming. There was a student who was watering the plants. I also met the current school head mistress there. She is an alumni of the S N girls school next door. She asked me whether there were enough children in our batch. There were plenty of children in each class room in our time. She said now there are very few students. The surge of modern schools has resulted in this. The class room you see on the right is which used to be my 6th standard class. One of our teachers was K V Sreedharan Master, who is a former BJP chief of Kerala. He had a hoarse voice which, as the children used to say during that time, was a result of police beatings during the times of Emergency. He retired the next year, when I moved to 7th.
This is how the old and infamous 'kokkaRNi' looks like now ('kokkarni' is sort of a farm pond). There used to be a time when this place was a camp of the notorious senior gangs in the school. They boozed and smoked beedis and weed here. They also used this as a rear entrance to the girl's school next door even. Other children did not dare to go to this part of the school when there were seniors around.
This is where the children came together every morning for the school assembly. The stage you see is where I, Saleesh, Saji and late Sreevatsan used to stand to sing prayer songs during the assembly.
Another view. This used to be a lotus pond in our days. The class rooms you see at the end was one of my first class rooms when I joined the school for 5th standard.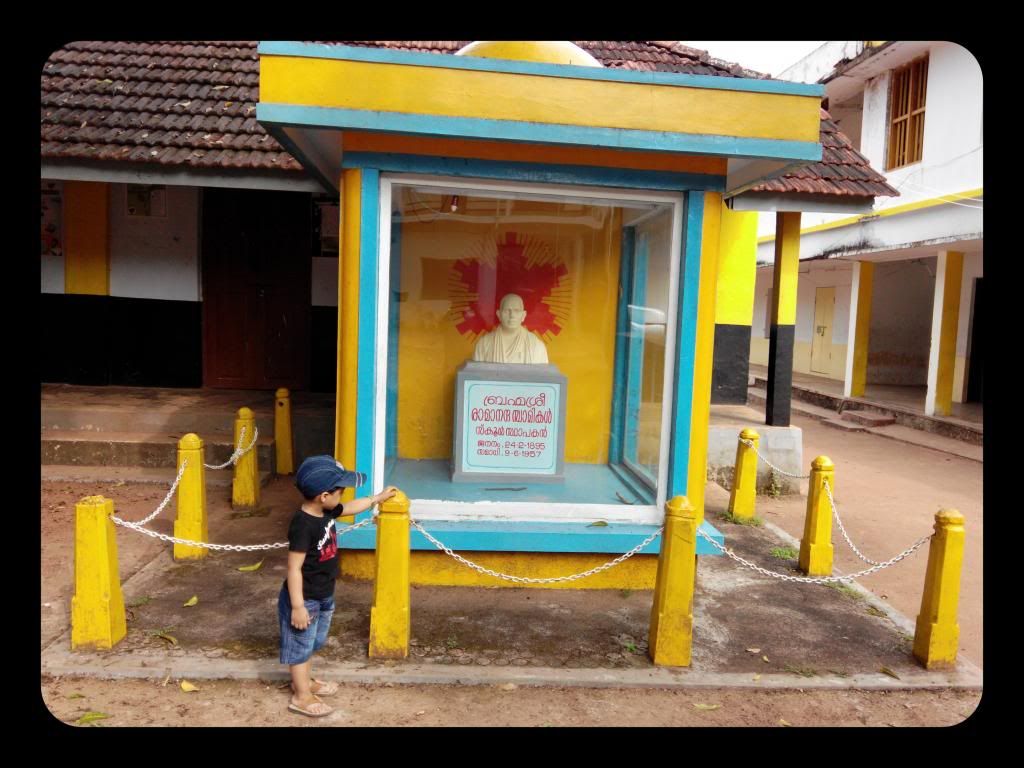 My son Ryan in front of the statue of Swami Ramananda, the school founder.
Another picture of the school campus.