Tweet
[This music review was first appeared in Soundbox music magazine in it's April 2011 issue].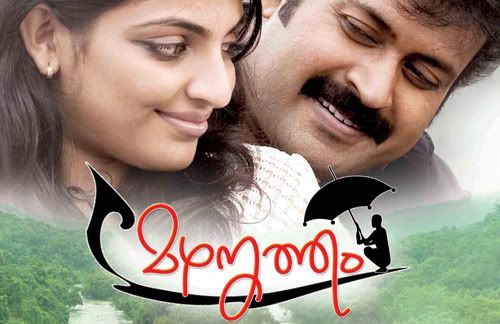 Album: Mazhanritham
Music: Pradip Somasundaran
Label: Tejas Music
Remember Pradip Somasundaran who won the Latha Mangeshkar national award for the best male singer in Meri Awaz Suno, the first reality music show in Indian Television? Pradip has turned out to be a composer with this music album in Malayalam. Director Sohan Lal (Orkkuka Vallappozhum fame) has penned the lyrics and actor Manoj K Jayan has sung a song in this album. The album's center theme is rain and each of the nine songs depict the nava rasas of rain. Pradip proves himself to be a good composer himself and has produced some melodious numbers for this album.
Mazhayil Nin Mozhikal is the highlight of this album because it is the first complete song sung by cine actor Manoj K Jayan (son of veteran Karnatik musician Jayan who was a disciple of Chembai Bhagavathar). Manoj has done a good job on this beautiful song. Pichiyum Kudamullayum, sung by Gayatri, is a treat and the singer's mellifluous voice has aptly supported the words.
Swayam Marannu Paadaam is sung by Pradip. The attention that this singer gives to every minute details of the pronunciation and feel of each song is commendable. What jars in this song though is the background vocals that come in between the verses which seems a bit overdone. Premamenna Kuyile is sung by Franco (chembakame fame) has a reggae-ish feel to it and Franco's voice fits the song like a T. Aadyaanuraagam is a duet by Pradip and Gayatri. The beginning of the second stanza is so beautiful in this song.
Mizhi Poykayil sung by Shahbaz Aman is my personal favorite from this album. Shabaz's delicate voice and soulful singing make this song the pick of the lot. Paadum Poovum is sung by Pradip and it's composed in Mappila song style. The energy in Pradip's voice has made this one a pleasure to listen to. Though it's a bit odd to hear the word "Maula" in the background vocals because considering the lyrics of the song, it just doesn't fit right. Iniyennu Kaanum is another soulful duet by Pradip and Bhavyalakshmi. Bhavya's distinct voice is notable in this song. Mounam is the concluding track of the album sung by Pradip which is yet another soothingly beautiful song.