Tweet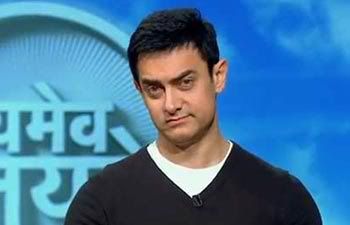 Okay, let me put things in it's place before I start on the topic of the show Satyamev Jayate.
I am not an Aamir Khan fan boy. In fact, I think he has been overrated as an actor with the tag lines such as "Mr. Perfectionist" and all that. Of all his movies I have seen, only one film truly touched my heart and that is "Taare Zameen Par". Aamir may be a good entertainer but I think Shah Rukh Khan does a great job at that. His so-called 'serious' movies are only quirky and populist in nature. Take Rang De Basanti and Mangal Pandey for example. He feeds on the populist notions of patriotism and nationalism and thus has carefully placed himself as an 'icon' from the entertainment industry, which is his own PR success I would say and nothing else. But none of these would stop me from praising his latest venture, Satyamev Jayate. Do not take me wrong. I do see the melodrama. I do see the 'super HD quality 3G video calling service of Airtel. I do see the orcestrated effort of the show. But I do not mind. Really.
Satyamev Jayate has brought a bit of reality in to the flood of reality shows in Indian television and no one can deny this fact. But of course, no such effort is beyond any criticism, so I read this piece by Madhavankutty Pillai in Open Magazine and another one in The Hindu by Farah Naqvi with great interest and wanted to put in my thoughts on the critique.
But before doing that, let me say that I am quite amused by the attitude of some of the journalists and activists who have been up in arms, not literally but mildly, against the show and Aamir Khan. It seems that they cannot digest the fact that some of them have been doing the work for many years that Aamir is doing now but have never got the attention that the show is getting now. Which makes me wonder whether their interest is in the 'ownership' of the issue or the focus on the issue. Some celebrity-colleagues of Aamir have even stooped down to a stage where they got personal about his divorce, his younger brother's custody case etc (which can be countered of course, but not in this post).
Aamir Khan did not claim that he brought some new issues to attention. In fact, in a recent IBN-Live interview, he has clearly mentioned that he is not doing anything new that some journalists and activists have not done in the past. Like mr. Pillai wrote in his article, "the material [of the show] is being tailored meticulously for the Indian middle class audience that Aamir Khan clearly understands." But mr. Pillai puts it as a thumbs-down, I see it the perfect way to run this show.
Mr. Pillai (or ms. Naqvi) doesn't seem to understand that the Indian middle-class is not yet ready for the hard truth. Hitting hard at them, as Pillai observes rightly, would make them turn away from TV. So Aamir does the right thing by giving one dose at a time. India has never seen a TV show like this before, so it cannot be all hard-hitting at it's first instance. The reach has never been so large. With the advantage of television (this show proves that television is still the most powerful medium in India, even in the era of social media explosion) and the face value of a popular Bollywood star, the issues that the Indian middle-class ignored for long have been brought to the forefront. And remember, with all this limitation of the target audience, he still tried to break some social myths (though while floating on the safe waters – like poverty, urban-rural difference etc) in the show. I think that is a good thing. Melodrama? Tears? Oh, yes. But how else do you reach out to the Saas-Bahu audience?
Pillai's complaint about not touching the topic of Homosexuality while discussing Harish Iyer's story is also misplaced. Bringing in homosexuality in that episode and in particular with connection to Harish's story could end up in the populist notion about homosexuality that it is a result of sexual abuse in the childhood or such mental trauma and can thus be 'cured' by a psychologist. But Pillai puts in rightly that the show could have featured fathers molesting their own children. Though Pillai thinks it was because Aamir did not want to alienate his audience, I don't think how 'hard-hitting' it would be than a story of a young boy bleeding his anus from the rape by a relative. That in itself is a big blow to the 'great Indian family and culture'. There are contrasting views among the critiques as well. Ms. Naqvi says Aamir "missed the point that reproductive decisions are rarely made by women" where as Mr. Pillai says that Aamir did not highlight that "in many cases mothers are a willing party to it".
I am not saying that the critique from all sides are uncalled for. Moreover, there is no perfect show beyond criticism. But it is a bit early to raise such critique against this show considering that it is only the first season (and I hope there will be more seasons to come). For now, I am looking at the positives. And I like the fact that unlike the so-called demi gods of Hindi cinema who have ventured out on the small screen, Aamir gives more space and face to the issue at hand in every episode. Of course there is melodrama, some truths not completely revealed etc, but that can wait for Reality TV version 2.
As for Aamir Khan's approach to the show, I am waiting to see if he will ever cover the topics such as homosexuality, caste, religion, atheism, abortion (as ms. Naqvi mentioned) etc in the future episodes. And how he would present them to the middle-class Indians. Now, that will be a real test for him.
(Image courtesy: India Today)